HANGING ON TO LIFE

Although I miraculously lived through that first night, my troubles were far from over. My life would continue, but now the devil had me on the ropes, and although I did not know it at the time, he was coming in to finish me off.
He continued attacking me in the hospital as I fought for my life. Several of his attacks damaged my body, while others aggravated my job standing and relationships. When all else failed, he influenced my doctors to persuade me to consent to a risky and unneeded operation. He repeatedly brought mayhem into my life with a relentless wave of events designed to abort my destiny and life purpose.
As strange as this may sound, I paid no heed to the Judgment Day messages I experienced that first night in the hospital. You can read about them in these postings: (MY DAY OF DEATH, When You Disbelieve The Devil's Existence…, Entering The Spiritual Realm, MY JOURNEY TO SPIRITUAL GOLGOTHA, IN HELL – CONFRONTED BY THE DEVIL, SWIMMING IN THE LAKE OF FIRE AND BRIMSTONE, Standing On The Seat Of Judgment Before God, MY EXPERIENCES IN HEAVEN AND HELL.) 
This entire encounter was so unbelievably dreadful and depressing that I often doubted if these terrifying experiences could even be real. So, I blocked all my reflections of that night because I no longer wanted to dwell upon them or think about their consequences. I rationalized them away as being nothing more than an awful dream. I pictured them as being very small and far away in my mind. Unfortunately, the consequence of these measures is that they exposed me to a new series of demonic attacks. I was about to experience the truth of living without God to block the devil's attacks.
THE NEXT FEW WEEKS

I spent the next few weeks in the intensive care unit (ICU), and quite frankly, I could not have been any sicker. It was so bad that I remember thinking, "oh well, at least I'm still alive."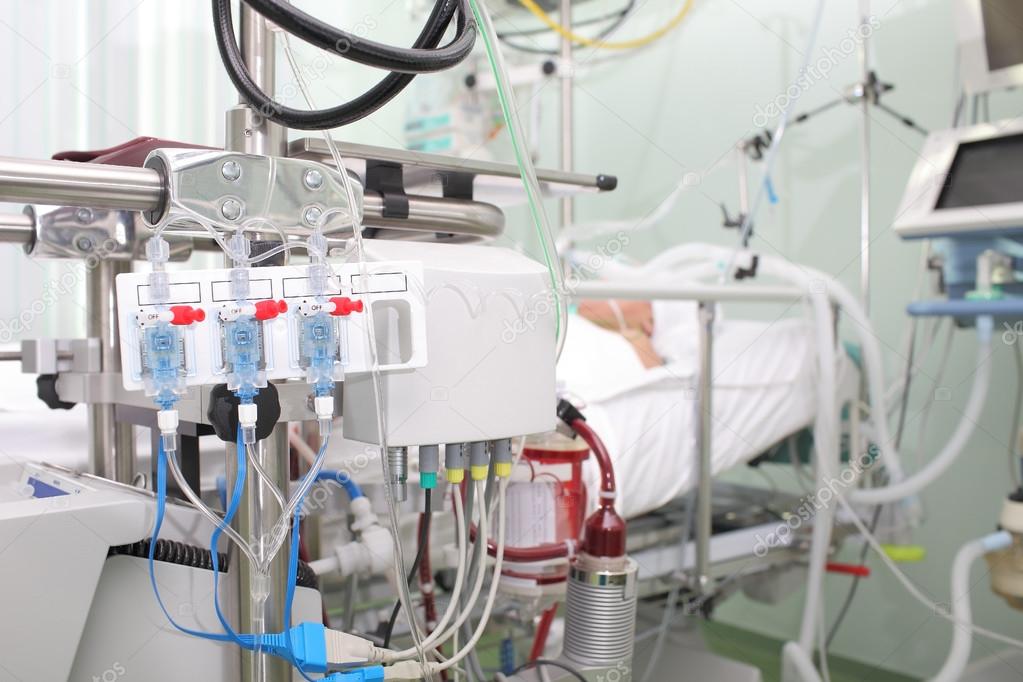 The doctors confirmed that my pancreas was the problem. They explained that it had exploded into hyper-production, generating thousands of times the required volume of digestive enzymes and discharging most of them into my bloodstream. They said that these digestive enzymes decompose proteins resulting in massive deterioration over most of my body. My blood, veins, arteries, muscles, nerves, organs, bones, and brain were all decomposing. That would explain my sensations of needles and pins all over my body and the numbness I felt after I entered the hospital.
The physicians continued to divulge that this hyper-production of digestive enzymes created immense pressure on the internal lining of the pancreas. This force became so powerful that it forced the inner lining through the outer wall, forming a balloon-shaped cyst outside the pancreas. The doctors called it a pseudo-cyst, and they deemed it to be a potentially deadly condition. They articulated that even though my pseudo-cyst was leaking, it had not yet ruptured. Eventually, it would harden and break open, abruptly releasing massive quantities of digestive enzymes into my bloodstream, creating even more impairment to my body. My surgeons said my pseudo-cysts were a ticking time bomb and would require defusing before this explosion struck me.
Even worse they did not have a medical solution to my condition, and I believed that surgery was on their minds and in their hearts from the very start. I also knew I was not strong enough for surgery then, as my body needed to heal and gain strength.
In the meantime, the physicians proceeded with a recuperation strategy founded on food abstinence. They asserted that total fasting would slow enzyme production considerably because food consumption activates the digestive processes. Beginning this program would also give my body time to purge itself of the harmful toxins in my blood. To confirm that the program was working, they monitored my blood regularly. Within a week, they declared that my enzyme levels were consistently descending.
I made it through the first few weeks without eating anything and lost 30 pounds in the process. They then started IV feedings that consisted of sugar water and vitamins. The physicians said afterward that my body responded as desired, and I had gained strength. While this was good news, I still felt very sick.
THE STENCH OF DEATH
It was more than physically feeling very sick, however. I began to sense there was something very different about my behavior. One thing that I noticed was my inappropriate speech. Vulgarities were now flowing out of my mouth, seemingly with every sentence I uttered. For some reason, I did not seem to care who it offended as I spared no one from my bad speech, not my mother, father, or even my children. Physicians and nurses were daily victims, and things like my handwritten notes strangely included vulgarities. It was so bad that even though it was clear to me, I seemingly could not stop. I wondered to myself, why am I saying such disgusting things? It was obvious to everyone around me that my vocabulary had changed. In reality, the stench of death was all over me. I was still alive and in this world, but the scent of death had wrapped me like a blanket.
My mind was also influenced. My thoughts were of sensual pleasures and flirting with nurses. This conduct was inconceivable for someone so sick that they could die at any moment. I recall thinking, what is wrong with you? You're so ill you cannot stay awake for more than an hour at a time, and you are harboring these absurd thoughts?
Not knowing that I was in a war for my life (spiritual warfare) allowed me to become a punching bag for evil. In my next posting, I will communicate how being unable to digest food became the next punch threatening my life. This will be followed by a series of punches through my stay in the hospital, followed by a breakthrough that started my journey back to God.